Terrorism in Catalonia 2019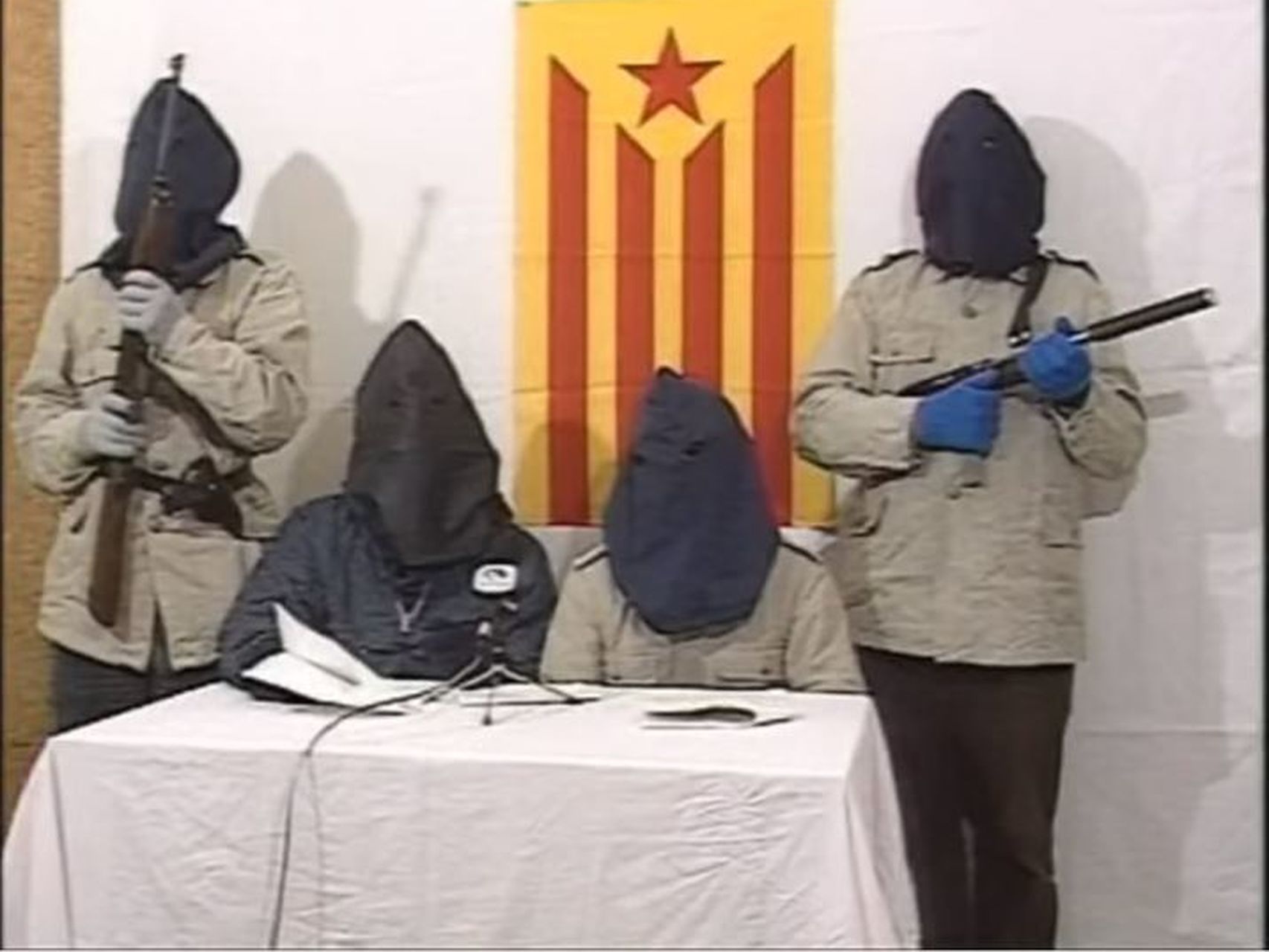 Nota: Al final del artículo se encuentra la traducción al castellano. At the end, the Spanish version.
Terrorism in Catalonia in 2019?
On December 21, the weak Spanish socialist government, maintained on the power by several parties, including the Catalan separatists, will hold a Council of Ministers in Catalonia to demonstrate that "the State is present" … perhaps what is already present, is the germ of the terrorism.

Spain and the terrorism
We know that terrorist groups are organizations wich many branches such a kind of octopus or the mythological Hydra, with many arms dedicated to different specialized activities, although sometimes overlapping.
We can see this in organizations of Jihadist-Salafist etiology, such as Al-Qaeda or Daesh/ISIS, who manage propaganda groups, specifically on the Internet, international relations, training, recruitment, more or less legal political parties and the entire system of murder and social pressure.
In Spain we know well what terrorism is, for many years we have fought against the threat and ended it. We ended the GRAPO, Marxist movement of great danger by the violence of their actions and the determination of their murderers. Also finished far-right groups… and with a Catalan group, Tierra Lliure, which carried out more than 200 attacks between 1978 and 1991. Later we were able to accomplish the great feat, finishing ETA, who since 1959 harassed Spanish society, of all ideology and origin.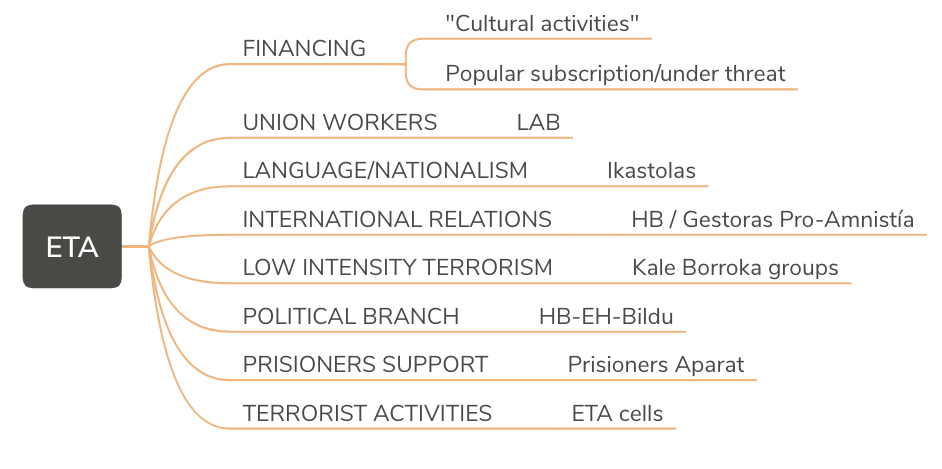 The organization of ETA, was formed around various divisions, including the political, financial, propaganda arm, prisons, street violence … and of course operational commands dedicated to kidnapping, shooting in the neck and car bombs. this is well known to the men and women of the CNI (National Intelligence Center) and the information services of the National Police (CNP) and Guardia Civil  (GC).
Terrorism Mirror: Basque region and Catalonia.
My pretension is to demonstrate that the independence process of Catalonia meets all the characteristics of a terrorist organization and perhaps the council of ministers of December 21, will be the starting trigger to increase the range of conflict and reach the point of no return, the death of some innocent.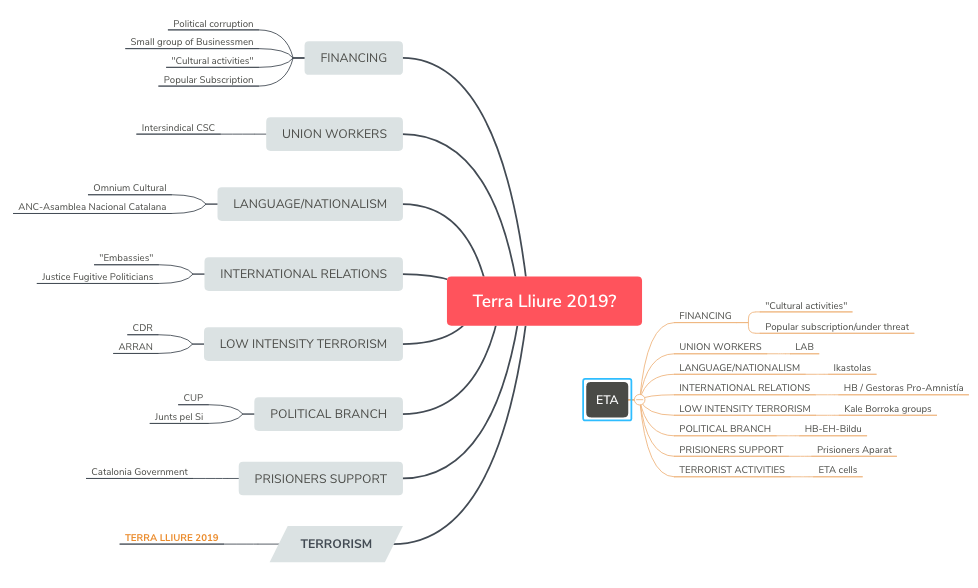 Of course the parties that support the government of Catalonia are heating the street, fueling the conflict and calling the violence directly, explicitly mentioning the independence of Slovenia that was carried out by violent means causing deaths and injuries. Now, to what extent will the parties be able to manage their hordes, once they will feel the power provided by threat and extortion ?.
Last point remains unknown, but from my professional point of view after 12 years of experience dealing with terrorism in Spain and the Middle East, once you push the mass within the conflict, it escapes any control, politicians lose the grip and the trigger-shooters takes the control.

Emerging old-new leaders
At the moment, the violence has two marked vectors, the CDR, Committee for the Defense of the Republic (in fact a bunch of bullies) and Frederic Bentanachs, who is one of the founders of the extinct group Terra Lliure. He was trained by the infamous terrorists of ETA, Yoyes, and Txomin. Yoyes who was murdered in front of her little daughter by her fellow companions, when dissenting from the armed struggle, let's not forget it.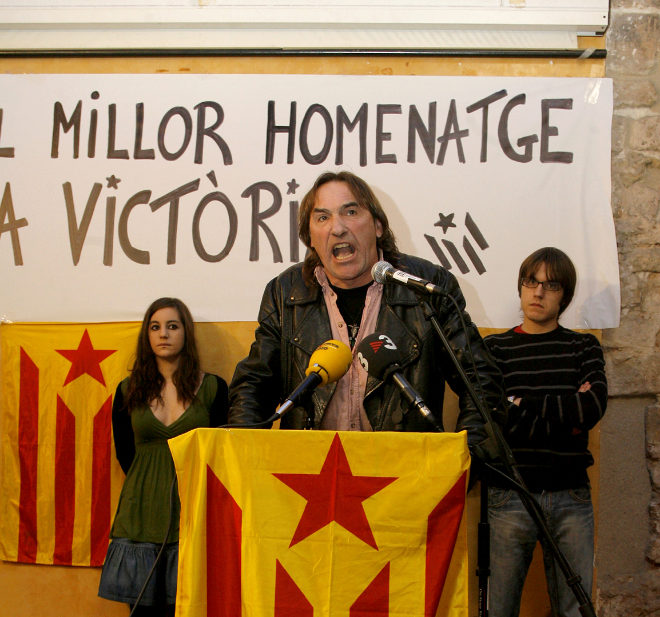 This person, already with 62 years on his back, has led a boycott against the use of the Spanish language, by the way, protected by the regional police of Catalonia, at the moment in the hands of pro-independence politicians, and trying to buy weapons of war, including .50 caliber among other materials.
Summarizing
I'm not going very deep in the analysis of the potential terrorist scenario and the organization… neither in the comparison of ETA structure and the situation in Catalonia, just a quick view.
To summarize, if we have the same type of problem, promoted by elements with specific interest on it,  money, intention, and people with knowledge about terrorism, which separates them from starting their actions?
The year 2019 will be a critical moment for the region of Catalonia and for the Spanish society in general. The conflict is served, it only remains to see its intensity and how it will affect, at the moment 4,000 companies have already fled from that area… and still going on.
---
Version en español.
El próximo 21 de Diciembre, el débil gobierno socialista español, mantenido en el poder por diversos partidos, incluyendo los independentistas catalanes, va a celebrar un Consejo de Ministros en Cataluña para demostrar que el Estado está presente… quizá lo que está presente ya, es el germen del terrorismo.
Sabemos que los grupos terroristas son organizaciones en forma de estrella, con muchos brazos dedicados a distintas actividades especializadas, aunque a veces solapadas.
Esto lo tenemos presente en grupos de etiología Jihadista-Salafista, como puedan ser Al-Qaeda o Daesh/ISIS, quienes manejan grupos de propaganda, especiálmente en internet, relaciones internacionales, entrenamiento, reclutamiento, partidos políticos más o menos legales y todo el sistema de asesinato.
En España conocemos bien lo que es el terrorismo, por muchos años hemos luchado contra la amenaza y terminado con ella. Se acabó con el GRAPO, movimiento marxista de gran peligrosidad por la violencia de sus acciones y la determinación de sus asesinos. También se acabó con grupos de extrema derecha y con un grupo catalán, Tierra lliure, que realizó más de 200 atentados entre 1978 y 1991. Con posterioridad fuimos capaces de la gran proeza, acabar con ETA, quién desde 1959 hostigó a la sociedad española, de toda ideología y procedencia.
La organización de ETA, esto lo conocen muy bien los hombres y mujeres del CNI y los servicios de información del Cuerpo Nacional de Policía y de la Guardia Civil, se conformaba alrededor de diversos divisiones, incluyendo el brazo político, financiero, de propaganda, prisiones, violencia callejera… y por supuesto comandos operativos dedicados al secuestro, tiro en la nuca y coches bomba.
Mi pretensión es demostrar que el proceso independentista de Cataluña reúne todas las características de una organización terrorista y quizá el consejo de ministros del día 21 de Diciembre sea el detonador de partida para incrementar el rango de conflicto y llegar al punto de no retorno, la muerte de algún inocente.
Desde luego los partidos que soportan al gobierno de Cataluña están calentando la calle, alimentando el conflicto y llamando a la violencia de forma directa, mencionando de forma expresa la independencia de Eslovenia que se realizó por medios violentos causando muertos y heridos. Ahora bien, hasta que punto los partido van a poder manejar sus huestes una vez que estás comiencen sentir el poder que otorga la amenaza y la extorsión?
La última pregunta es la gran incógnita, pero desde mi punto de vista profesional después de 12 años vinculado a actividades anti-terroristas en Europa y Oriente Medio, una cosa tengo clara, una vez que lanzas a la masa dentro del conflicto, se escapa del control institucional y los asesinos toman el poder
De momento, la violencia tiene dos vectores marcados los llamados CDR, Comités para la Defensa de las República, y un individuo de mal recuerdo, se llama Frederic Bentanachs, es uno de los fundadores del grupo extinto Terra Lliure y recuerdo que fue adiestrado por los tristemente famosos terroristas de ETA, Yoyes y TXomín. Yoyes que fue asesinada frente a su hija pequeña por sus porpios compañeros al disentir de la lucha armada, no lo olvidemos.
Este sujeto, ya con 62 años en su espalda, ha dirigido un boicot contra el uso de la lengua española, protegido por cierto, por la policía de Cataluña, en estos momentos en manos de los políticos independentistas, y que trata de comprar armas de guerra calibre .50 entre otros materiales.
Para resumir, si tenemos el mismo tipo de estructura, dinero, intención y gente con conocimientos sobre terrorismo, que los separa de comenzar sus acciones.?
El próximo 2019, será un año crítico para la región de Cataluña y para la sociedad española en general. El conflicto está servido, solo queda por ver su intensidad y como afectará, de momento 4.000 empresas han huído ya de esa zona y la sangría continúa.